How to Choose the Right Whistleblower Lawyer for Your Case
If you have knowledge of systemic fraud or illegal activities in your workplace, you may consider blowing the whistle to protect yourself and others. However, due to the labyrinthine rules and regulations that govern the whistleblowing process, blowing the whistle may be intimidating, and you may require the assistance of an experienced whistleblower lawyer. A whistleblower lawyer can advise you on your legal rights and responsibilities, protect you from retaliation, and assist you in maximizing any rewards for your information, if any.
Choosing the right whistleblower lawyer for your case can make or break your claim. Brown, LLC focuses on representing whistleblowers in cases involving fraud against the government.  The False Claims Act is a prolific statute that recovers billions of dollars each year for the government and hundreds of millions of dollars for whistleblowers who blow the whistle on Medicare Fraud, Medicaid Fraud, healthcare fraud involving government funds (or California private insurance fraud or Illinois systemic insurance fraud) , defense contractor fraud, pharmaceutical fraud, and other types of fraud. Our firm, led by attorney Jason T. Brown, a former FBI Special Agent is a prominent advocate for whistleblowers, and is highly knowledgeable of a suite of whistleblower laws that can benefit his clients, and is dedicated to fighting for whistleblowers' rights and helping them receive the highest possible whistleblower rewards for their efforts.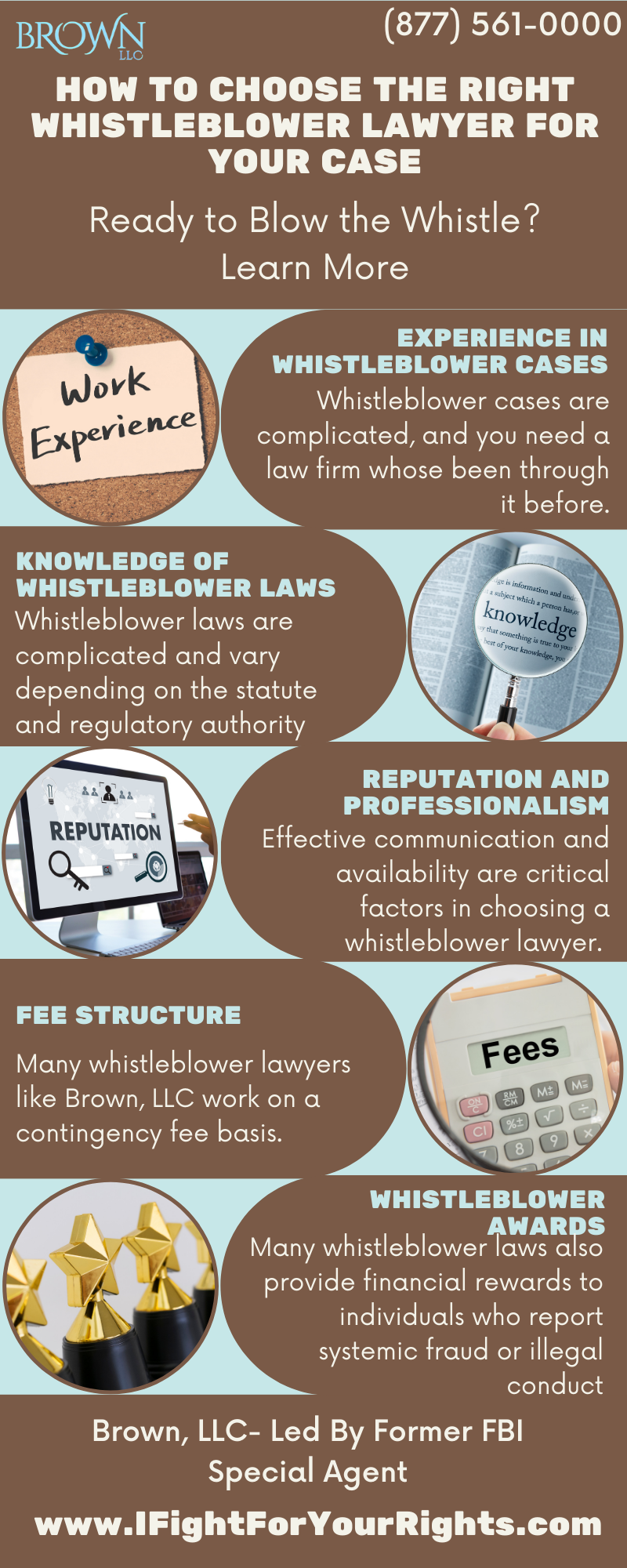 Here are some factors to consider when selecting a whistleblower lawyer.
Experience in Whistleblower Cases
The first thing to look for in a whistleblower lawyer is their experience handling whistleblower cases. Whistleblower cases are complicated, and you'll need an attorney who understands the legal and procedural requirements for filing a successful claim.
Look for a lawyer who focuses on whistleblower law and more so has experience relevant to your specific case, whether you are seeking to report healthcare fraud, securities fraud, or government contracting fraud, among others. You should inquire about whether the lawyer has handled a similar case and if so, how their case compares to yours.  Since most False Claims Act cases are filed under seal and are confidential, the firm may speak about their prior and pending cases in general ways, without disclosing specifics about the fact patterns in sealed cases.  
Knowledge of Whistleblower Laws
Another important consideration is the lawyer's understanding of the various whistleblower laws. Whistleblower laws are complicated and vary depending on jurisdiction and case type. A lawyer who is familiar with relevant federal and state laws, as well as any industry-specific regulations, is often best equipped to potentially maximize any whistleblower reward at the conclusion of the case.
Some of the best whistleblower law firms will have some degree of familiarity with the legal and regulatory landscape governing the relevant industry, and will go over the relevant whistleblower laws and how they apply to your case. A skilled attorney can assist you in navigating the legal system and avoiding pitfalls that could jeopardize your case, while simultaneously advancing your case in a calculated, and strategic way.  If you file the case the wrong way you may blow your case instead of blowing the whistle, so it's critical to retain a whistleblower law firm that knows what it's doing. 
Reputation and Professionalism
When choosing a whistleblower lawyer, it's important to consider their reputation and professionalism. You want a lawyer who is respected in the legal community and who will represent you in a professional and ethical manner.
Look for a lawyer who has a positive reputation among their peers and clients. You can check online reviews and ratings such as Martindale-Hubbell, a peer reviewed rating system in which Jason T. Brown received the highest possible rating. You may also want to consider their track record of success in other whistleblower cases.
Communication and Availability
Effective communication and availability are also critical factors in choosing a whistleblower lawyer. You need a lawyer who will keep you informed about the progress of your case, and who is available to answer your questions and concerns. Brown, LLC is available on weekends and after-hours when it may be most convenient for you, the client.  
Fee Structure
Finally, you need to consider the lawyer's fee structure. Whistleblower cases can be expensive, and you need to understand how much the lawyer will charge for their services.
Many whistleblower lawyers work on a contingency fee basis, which means they only get paid if you win your case.  Brown, LLC handles most of its whistleblower cases on a contingency basis, including False Claims Act, SEC whistleblower cases, NHTSA whistleblower cases and Anti-Money Laundering whistleblower matters.  
Whistleblower Awards
In addition to protecting whistleblowers from retaliation, many whistleblower laws also provide financial rewards to individuals who provide information about fraud or illegal activities. The amount of the reward can vary depending on the case, but it can be significant, skyrocketing up to many millions of dollars, although nothing is ever guaranteed.
For example, under the SEC Whistleblower Program, whistleblowers can receive up to 30% of the monetary sanctions collected by the SEC, which can be in the millions of dollars. Similarly, under the FCA, whistleblowers can receive between 15% and 30% of the government's recovery in a successful case.
Here are a few recent examples of whistleblower awards:
In 2021, the Commodity Futures Trading Commission (CFTC) awarded nearly $200 million to a whistleblower who provided credible, and timely original information which contributed to an already open investigation and led to a successful enforcement action. This was the largest award ever given by the CFTC whistleblower program. Reference: https://www.cftc.gov/PressRoom/PressReleases/8453-21
In 2020, the Securities and Exchange Commission (SEC) awarded $114 million to a whistleblower who provided information about violations related to the agency's " wrongdoing." This was the largest award ever given by the SEC whistleblower program. Reference: https://www.sec.gov/news/press-release/2020-266
In July 2021, the Department of Justice (DOJ) announced that Novartis would pay over $642 million to settle allegations of improper payments to patients and physicians. The settlement resolved a whistleblower lawsuit filed under the False Claims Act, which alleged that Novartis paid kickbacks to physicians in exchange for prescribing its drugs. Reference: https://www.justice.gov/opa/pr/novartis-pays-over-642-million-settle-allegations-improper-payments-patients-and-physicians
These examples illustrate the potential for significant financial rewards for whistleblowers who provide valuable information to government agencies. By reporting fraud or illegal activities, whistleblowers not only protect the public interest but also have the opportunity to earn a substantial monetary reward for their efforts.
To be eligible for a whistleblower award, you must provide information that leads to a successful enforcement action by the government. The information must also be original and not already known to the government.
Choosing the right whistleblower lawyer can be critical to the success of your case. You need a lawyer with experience in whistleblower cases, knowledge of whistleblower laws, a positive reputation, effective communication skills, and a reasonable fee structure.
If you are considering blowing the whistle on fraud or illegal activities in your workplace, consulting with a whistleblower lawyer from an experienced whistleblower law firm like Brown, LLC can help protect your legal rights and potentially earn you a financial reward for your information.