Unveiling Common Types of Pharmaceutical Fraud in the USA 
As science and technology continue to advance, pharmaceutical companies play a significant and critical role in the healthcare industry by developing new medications and improving existing medications for the treatment of diseases. Big pharma and the smaller pharmaceutical companies do an amazing job at times in helping people's quality of life and combating disease, however, sometimes when they do bad things, they do things that are very very bad, and cost the taxpayers billions of dollars as well as put patients at risk.  For example, allegedly falsifying data for approval or falsifying data to overcome quality controls is all too common and gives rise to mass torts, such as the Actos bladder cancer litigation and the Yasmin birth control litigation.  However, this article talks about the nexus between systemic pharmaceutical fraud and the False Claims Act (FCA), a statute meant to combat fraud against the government and enables insider pharmaceutical whistleblowers to blow the whistle and as you can see herein, potentially receive tens of millions of dollars as whistleblower rewards under the FCA. 
Pharmaceutical fraud refers to any unlawful activity carried out by pharmaceutical companies, medical professionals, and individuals with the aim of making profits they're not entitled to, gaining any other kind of illegal benefit, and/or concealing a material issue with approval or production. This includes manipulation, misrepresentation, or concealment of information regarding the product. For example, a pharmaceutical company may offer a medical doctor a lavish vacation for referring patients to a particular drug or may bill for a service that was not actually provided, among other things, which would constitute an unlawful kickback under the Anti-Kickback Statute component of the FCA, since the impartiality of the physician comes into question due to the inducements received. 
To prevent financial loss and to prevent patients from harm, the False Claims Act (FCA) empowers inside individuals who know of systemic pharmaceutical issues to report fraud and in return, if there is an economic recovery then the whistleblower can receive up to 30% of what the government recovers as pharmaceutical fraud whistleblower award.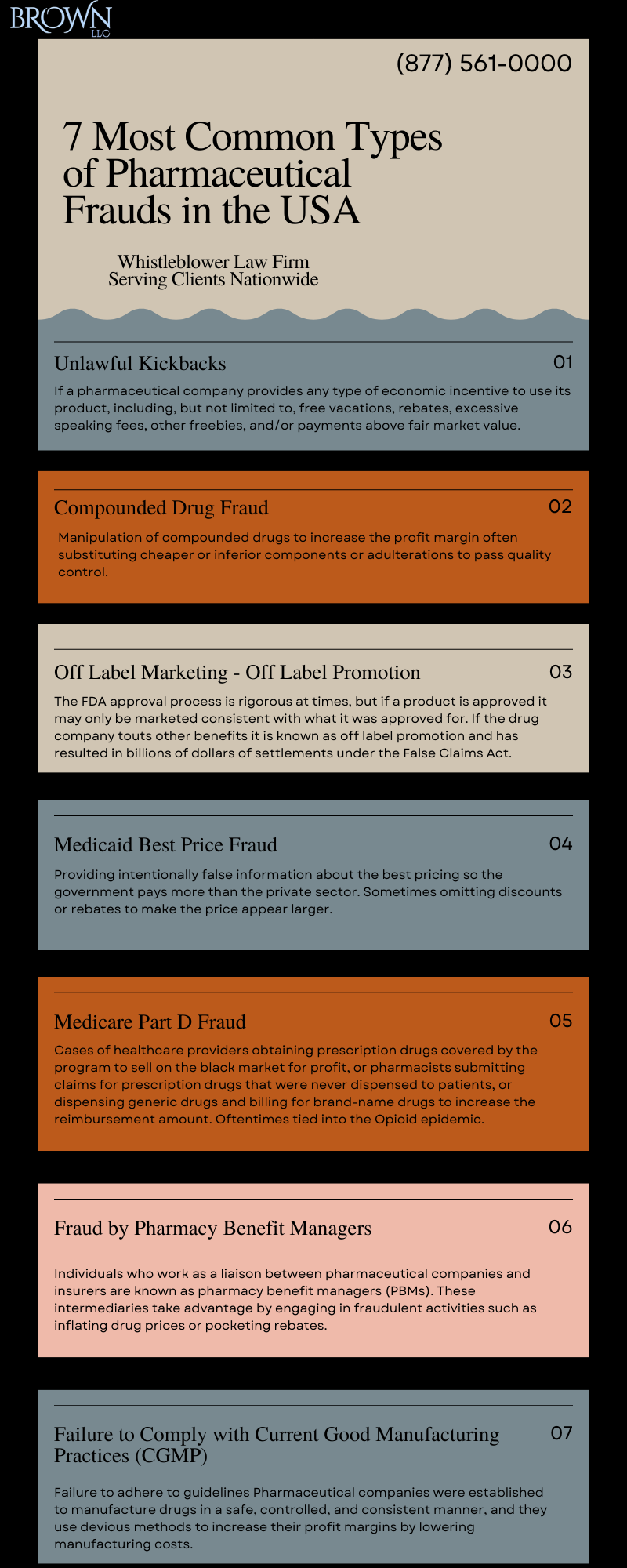 Here are some common types of pharmaceutical fraud reported by whistleblowers in America:
Unlawful Kickbacks: Sometimes, a practice that is considered a norm in some industries can be a crime in others. Kickbacks are a prime example, which is very common in other businesses, but the law prohibits kickbacks in the healthcare industry. Therefore, if a pharmaceutical company pays a healthcare provider or any other individuals to promote or prescribe their services or products, it will give rise to FCA liability. If a healthcare provider refers to a particular service or product of a particular pharmaceutical company without taking into consideration the best interests of the clients, with the intention of procuring any monetary benefit or any other incentive, both the healthcare provider as well as the pharmaceutical company will be liable for unlawful kickbacks.  Sometimes the kickbacks are in the form of direct economic compensation, other times they are providing lavish vacations or sporting events, and still other times it could be having a contest with a big prize.  Kickbacks are a big no-no, no matter how you frame them and some of the largest False Claims Act settlements were the results of kickbacks. 
The law prohibiting this conduct is the Anti-Kickback Statute (AKS), which provides hefty fines and imprisonment for those who violate the provisions of the Act. The purpose of the law is to protect the interest of the clients and to ensure that healthcare practitioners provide the best services to their clients without any bias or greed for benefit. Otherwise, healthcare providers may prioritize their personal benefits over the best interests of the patients.
Compounded Drug Fraud: Another common pharmaceutical fraud reported by whistleblowers involves the manipulation of compounded drugs to increase the profit margin of the companies. Compounding refers to the production of the pharmaceutical product and in some cases the pharmaceutical company or more likely the derivative manufacturer will use cheaper, inferior components to maximize profits, but compromise the integrity of the product.  Sometimes there is an issue of dilution where the active ingredient of the product is spread to two units and essentially watered down. In order to prevent the implications of this issue, the Federal Food, Drug and Cosmetic Act has been enacted to regulate compounded drugs, and anyone who violates its provisions may be liable to fines and imprisonment.
Illegal Drug Switching: Illegal drug switching is a kind of fraud in which a healthcare provider or pharmacist replaces a prescribed medication with a different drug without informing the patient about it. It can result in serious consequences for the health of the patient, as the replaced drug may not be suitable for the treatment of the disease the patient is suffering from. In some cases, the replaced drug can also result in side effects and may put the life of the patient at risk. Therefore, the law prescribes fines and imprisonment for individuals involved in such malpractice. This is different from trying to switch the patient to a generic version of the brand name product, which often requires patient consent.  It is important for the consumer to know while the generic product may save money, due to a catch-22 oftentimes you are prohibited from suing the generic manufacturer of the product if you're injured by it, since they weren't the ones who obtained FDA approval, and you can't sure the originator of the product, since they weren't the ones who were in the generic sales chain.  Sounds unfair?  It's incredibly unfair. 
Medicaid Best Price Fraud: Under the Medicaid program, all pharmaceutical companies are mandated to report the best price at which they sell their drugs to any purchases, including Medicaid, to ensure that Medicaid receives the best price for drugs as other purchasers. However, some pharmaceutical companies intentionally misreport their best price, either by failing to report discounts or rebates offered to other purchasers with the intention of gaining an increased reimbursement from Medicaid. By doing so, they defraud the government of millions of dollars. In order to prevent such practices, the False Claims Act not only prescribes heavy penalties and imprisonment to anyone involved in the crime but also provides an incentive to whistleblowers to bring these cases to the notice of the government authorities.
In 2012, a whistleblower filed a lawsuit under the False Claims Act alleging that several pharmaceutical companies were not providing the Medicaid program with the best prices for their drugs, as required by law. The government joined the lawsuit, and the companies involved paid $11 billion in penalties and restitution, with a whistleblower award in aggregate exceeding  $100 million.
Medicare Part D Fraud: The Medicare Part D Program provides prescription drug coverage to the beneficiaries of Medicare. Many whistleblowers have reported fraud and misuse of the Medicare Part D Program, which includes cases of healthcare providers obtaining prescription drugs that are covered by the program to sell on the black market for profit or cases in which pharmacists submit claims for prescription drugs that were never dispensed to patients or dispensing generic drugs and billing for brand-name drugs to increase the reimbursement amount. It can also include cases in which pharmacists charge more for the prescribed drugs than their actual costs. Medicare Part D fraud can negatively affect patients, and they may have to pay for the drugs in the future when the need actually arises. 
In 2014, a whistleblower filed a lawsuit under the False Claims Act alleging that a pharmacy chain was defrauding the Medicare Part D Program by submitting false claims for prescription drugs. The government joined the lawsuit, and the pharmacy chain paid $5.2 million in penalties and restitution, with a whistleblower award of $875,000.
Fraud by Pharmacy Benefit Managers: Pharmacy benefit managers (PBMs) are individuals who act as a bridge between pharmaceutical companies and insurers. They are responsible for negotiating drug prices, rebates, etc. Whistleblowers have reported that these intermediaries exploit parties by engaging in fraudulent activities such as inflating drug prices or pocketing rebates. 
In 2019, a whistleblower filed a lawsuit under the False Claims Act alleging that a PBM was defrauding the government by overcharging for prescription drugs. The government joined the lawsuit, and the PBM paid $3.5 million in penalties and restitution, with a whistleblower award of $600,000.
Failure to Comply with Current Good Manufacturing Practices (CGMP): Good Manufacturing Practices provide guidelines to pharmaceutical companies to manufacture drugs in a safe, controlled, and consistent manner. The purpose of these guidelines is to encourage good practices and to ensure the quality of drugs. The cases reported by whistleblowers indicate that pharmaceutical companies do not follow these guidelines and adopt sneaky means to increase their profit margin by lowering manufacturing costs. The violations of Good Manufacturing Practices may result in substandard drugs, which can have serious health consequences for patients. The Federal Food, Drug, and Cosmetic Act (FDCA) prescribes hefty punishment and imprisonment for those who violate these practices.
In 2018, a whistleblower filed a lawsuit under the False Claims Act alleging that a pharmaceutical company was violating CGMP regulations by manufacturing and distributing adulterated drugs. The government joined the lawsuit, and the company paid $1.25 million in penalties and restitution, with a whistleblower award of $225,000.
Off-Label Promotion:  Another type of pharmaceutical fraud is off-label promotion, where pharmaceutical companies market or promote a drug for a use that is not approved by the FDA. This practice can lead to serious health consequences for patients and has resulted in several high-profile stratospheric pharmaceutical settlements. For example, in 2012, GlaxoSmithKline agreed to pay $3 billion to settle allegations of off-label promotion and other illegal marketing practices for several of its drugs. In another instance, in 2012, a former Pfizer sales representative was awarded $51.5 million for his role in exposing the company's illegal off label marketing of the painkiller Bextra. 
Whistleblowers can play a critical role in uncovering pharmaceutical fraud and helping to hold companies accountable. The False Claims Act provides a powerful tool for whistleblowers to report fraud. Pharmaceutical fraud is a serious issue that can have severe consequences for patients, governments, and the industry.  By reporting pharmaceutical fraud under the False Claims Act, whistleblowers can help ensure that justice triumphs over fraud, and that the industry operates in a transparent and ethical manner that prioritizes patient safety and well-being.  Know your rights, know your options and if you're aware of fraud along the lines discussed in this article have a free, confidential consultation with a pharmaceutical whistleblower law firm like Brown, LLC.