Why Whistleblowers are Important in Society
Whistleblowers play an important role in society by exposing fraud, corruption, and other illegal activities that may otherwise go undetected and by remedying them help keep companies accountable and fraud in check. By speaking up and reporting wrongdoing the right way, whistleblowers help to protect the public interest and ensure that individuals and companies pay for defrauding the taxpayers or other conduct that puts society as a whole at risk of harm. 
What is whistleblowing?
Whistleblowing is the act of reporting or disclosing information about illegal or unethical activities within an organization. Whistleblowers as a colloquial term may report violations of laws, regulations, or company policies, and may do so internally or externally, depending on the circumstances. Whistleblowers as a legal term have to invoke a particular statute to enjoy its protections and rewards.  Whistleblowers may be current or former employees, contractors, or other individuals with knowledge of wrongdoing.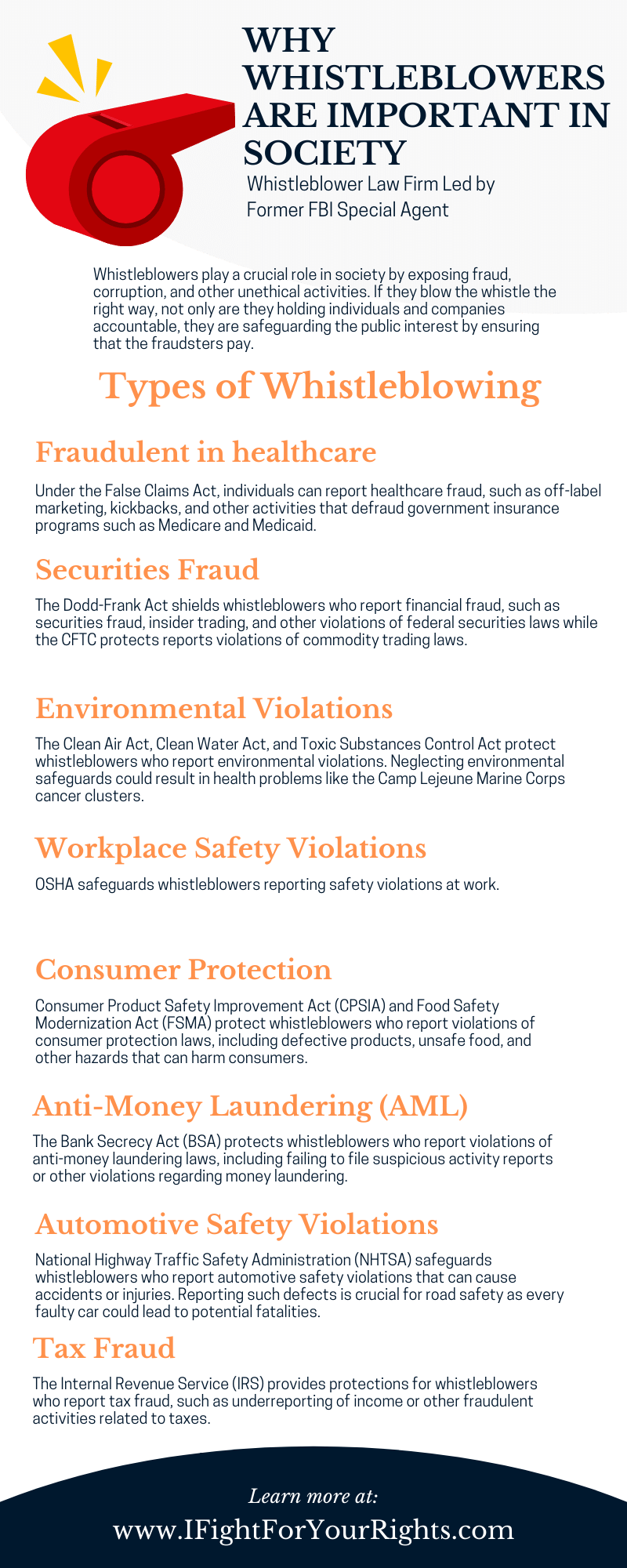 Types of Whistleblowing
Whistleblowing can take many different forms, and there are several federal statutes that protect whistleblowers in different industries. Some of the most common types of whistleblowing and federal statutes include:
Fraudulent activities in healthcare: The False Claims Act allows whistleblowers to report fraudulent activities in healthcare, such as off-label marketing, kickbacks, and other violations that defraud government programs like Medicare and Medicaid. The statute incentivizes whistleblowers with up to 30% of what the government recovers and helps society by keeping dirty doctors and institutions in check, helps the taxpayers from being defrauded, and helps the patients so they don't suffer from unnecessary medical procedures for billing sake.
Financial fraud: The Dodd-Frank Wall Street Reform and Consumer Protection Act protects whistleblowers who report financial fraud, such as securities fraud, insider trading, and other violations of federal securities laws. The Commodity Futures Trading Commission (CFTC) also provides protections for whistleblowers who report violations of commodity trading laws.  These laws help provide stability to the financial sector and seek to prevent another economic collapse from regulatory lapses or outright fraud.
Environmental violations: The Clean Air Act, Clean Water Act, and Toxic Substances Control Act all provide protections for whistleblowers who report environmental violations, such as illegal dumping, emissions violations, and other hazardous activities that pose risks to public health and the environment.  ESG issues are a hot button topic for the present administration, and failure to maintain environmental safeguards could lead to unmitigated health issues that latently occur such as the Camp Lejeune Marine Corps cancer clusters.
Workplace safety violations: The Occupational Safety and Health Act (OSHA) provides protections for whistleblowers who report workplace safety violations, such as unsafe working conditions, improper training, and other hazards that can lead to accidents or injuries.  
Consumer protection: The Consumer Product Safety Improvement Act (CPSIA) and the Food Safety Modernization Act (FSMA) both provide protections for whistleblowers who report violations of consumer protection laws, such as defective products, unsafe food, and other hazards that can harm consumers.
Anti-Money Laundering (AML): The Bank Secrecy Act (BSA) provides protections for whistleblowers who report violations of anti-money laundering laws and regulations, such as failing to file suspicious activity reports or other fraudulent activities related to money laundering.
Automotive safety violations: The National Highway Traffic Safety Administration (NHTSA) provides protections for whistleblowers who report automotive safety violations, such as defects or malfunctions that can lead to accidents or injuries.  Society needs individuals to come forward to ensure the safety of the roadways.  Every defective car on the road is a potential death sentence to someone.  
Tax fraud: The Internal Revenue Service (IRS) provides protections for whistleblowers who report tax fraud, such as underreporting of income or other fraudulent activities related to taxes.
In addition to these federal statutes, many states also have their own whistleblower protection laws that provide additional protections for employees who report illegal activities in the workplace.
Some examples of successful whistleblowers:
False Claims Act Whistleblowers
The False Claims Act is a federal law that allows private citizens to sue individuals and companies that defraud the government. The law provides whistleblowers with protections against retaliation and the opportunity to receive a reward if the case is successful. Whistleblowers in FCA cases can receive between 15% and 30% of the total amount recovered by the government.
In 2010, pharmaceutical manufacturer AstraZeneca agreed to pay $520 million to settle False Claims Act allegations related to the marketing of its antipsychotic drug Seroquel. The allegations included off-label marketing, paying kickbacks to physicians, and other allegedly illegal practices.  A former AstraZeneca sales representative filed the qui tam and received a $45 million whistleblower award.
Whistleblowers like this provide societal impact by stopping the potential harm that could have been caused to patients who were prescribed Seroquel for unapproved uses. The drug was approved by the FDA for treating schizophrenia and bipolar disorder, but when a product is promoted for purposes that weren't fully vetted by the FDA the efficacy and more importantly, the safety are implicated and it could create catastrophic health consequences.  
SEC Whistleblower Cases
Under the Dodd-Frank and SOX whistleblower provisions, individuals who report securities law violations to the Securities and Exchange Commission (SEC) are protected against retaliation and may be eligible for monetary awards if the case results in sanctions exceeding $1 million. Whistleblowers in these cases can receive between 10% and 30% of the total amount recovered by the government.
One example of a successful SEC whistleblower case is the case of JPMorgan Chase. In 2016, JPMorgan agreed to pay $267 million to settle SEC allegations that it violated the Foreign Corrupt Practices Act by hiring relatives of Chinese government officials to gain business advantages. The whistleblower in the case received a reward of $30 million.
Another is in 2015, the Securities and Exchange Commission (SEC) announced a settlement with Equity Trust Company and its former CEO for their roles in an alleged Ponzi scheme that defrauded investors out of more than $17 million. The SEC whistleblower in this case was a former Equity Trust employee who provided information to the SEC about the company's involvement in the scheme.
The societal benefits of this case are significant because Ponzi schemes can cause significant financial harm to investors and erode public trust in the financial markets. By exposing the fraudulent activities of Equity Trust and Desich, the SEC helped to hold them accountable for their actions and promote transparency and accountability in the financial industry.
Importance of Whistleblowers
Whistleblowers have societal importance for several reasons. They help to promote transparency and accountability, deter illegal activities, and protect the public interest. Whistleblowers also provide an important check on powerful corporations and individuals, and can help prevent harm to consumers, investors, and other stakeholders.
Without whistleblowers, many instances of fraud, corruption, and other illegal activities might never come to light. Whistleblowers can help expose wrongdoing that might otherwise remain hidden and provide valuable evidence in legal cases that can lead to significant penalties and sanctions against the wrongdoers thereby deterring future conduct.
Interesting Hypothetical Examples of Whistleblowers 
To illustrate the importance of whistleblowers, let's consider a few hypothetical examples:
An environmental engineer working for a chemical company discovers that the company is illegally dumping toxic waste into a nearby river. Despite raising concerns with management, nothing is done. The engineer decides to blow the whistle and reports the illegal dumping to the Environmental Protection Agency. As a result, the company is fined and required to clean up the contamination, protecting the health and safety of local residents and the environment.
An employee of a large financial institution discovers that the company is engaged in fraudulent activities related to mortgage lending. The employee reports the fraud to the SEC under the Dodd-Frank and SOX whistleblower provisions, and as a result, the company is fined and forced to compensate victims of the fraud. The whistleblower receives a reward for their assistance in the case.
Whistleblowers are important in society for their role in uncovering and reporting fraud, corruption, and other illegal activities. Through the False Claims Act and SEC whistleblower provisions as well as many other statutes, whistleblowers are provided with legal protections and the opportunity to receive rewards for their assistance in successful cases. One of the keys to whistleblower success is to collaborate with some of the best whistleblower law firms early to understand how to structure the case and be fully aware of the options to maximize the economic opportunity for the whistleblower, put defensive protections in place and triage the matter to address societal concerns by prioritizing matters which can cause physical harm, death or catastrophic economic and/or environmental consequences.