Jason T. Brown is the head of the firm Brown, LLC. A seasoned attorney who served as a Special Agent and Legal Advisor for the Federal Bureau of Investigation (FBI). In private practice, Mr. Brown is renowned nationwide for his legal acumen winning extremely complex litigation at times via motion and other times by judgment with aggregate results exceeding several hundred million dollars.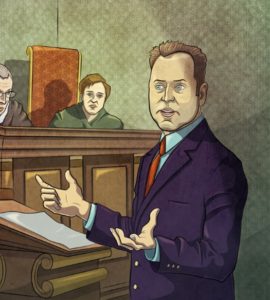 You can read about his numerous awards and accolades such as the highest possible prestigious Martindale Hubble AV rating and other awards on the awards page.
Mr. Brown is very passionate about representation and in high demand across the country with frequent invitations from other firms to collaborate on high profile matters. Consequently, he keeps a very busy schedule and is designated trial counsel on some very high-end matters of note and very secretive matters as well. Despite the long hours of zealous advocacy, he is fiercely loyal to his clients and personable and returns calls outside of business hours and during weekends.
When asked about his storied career from tennis professional to clerking for a Superior Court Judge to the FBI where he worked some of the most prominent investigations of our lifetime in the early 2000s, Mr. Brown states, "Every morning I wake up with purpose and passion feeling that I'm just blessed that I can continue my service to the country by fighting for people's rights and still seamlessly interfacing with the Department of Justice in some of the very secret litigation our firm litigates. I'm equally fortunate that I'm surrounded by a great legal team who equally shares my passion and concern for the people we work with."
Representative matters Mr. Brown litigates includes:
Qui Tam (whistleblower litigation)

Defense Contractor Fraud
Other Whistleblower Matters

Collective & Class Actions
Mass Torts
Other High-End Litigation

Commercial Litigation
Other Litigation where the stakes are high
He is a methodical and tenacious litigator who has a keen strategic eye and sixth sense for winning complex litigation. Mr. Brown was the first attorney in the country to file a battery of cases on behalf of a group of women whose injuries were caused by their birth control. After many years of hard-fought litigation, the case settled for one hundred million dollars ($100,000,000.) He has successfully tried complex litigation, including collective and class actions to verdicts in State & Federal Courts across the country.
Righting injustices is a passion of his and he works non-stop litigating on behalf of the injured and aggrieved. During his tenure as Legal Advisor and Special Agent for the FBI, he worked closely with the United States Attorney's Office, and also worked with and provided legal guidance to members of the Central Intelligence Agency (CIA), United States Secret Service, Immigration & Naturalization Services, Homeland Security and countless other Federal, State, and Local Agencies.  Mr. Brown briefed top-level members of the Executive Branch on matters of national importance and worked on some of the most prominent investigations of the time at the Bureau including investigations into 9/11, Anthrax, and the Daniel Pearl kidnapping.
Read Former FBI Special Agent Jason T. Brown's Statement on the Current Status of the FBI
During his academic and work career, he has received numerous commendations and accolades for his competency and scholarship in legal matters. He was cleared for a coveted Top-Secret Security Clearance and may be cleared to deal with case-specific sophisticated legal matters that require such a clearance.
Mr. Brown has many diversified, robust accomplishments in his career. He was a national debate club champion, former chess and tennis champion, law clerk to a Superior Court Judge, Editor-in-Chief of a law school publication, and recipient of a National Scholarship for his composition about Intellectual Property.
Some Interesting Random Facts about Jason:
He has an identical twin brother that is also a lawyer
He helped run and was the head pro for a Division I college's summer tennis program
Co-starred in a Court TV show
Studied abroad in the University of Salamanca
Ran and participated in a major FBI undercover operation
Mr. Brown has a formidable record in the legal realm and has many favorable results and verdicts for his clients. He is a tireless worker who will diligently and methodically litigate cases from inception to trial.