5 Terrifying Medicare Fraud Examples in Real Life
Medicare fraud is an alarming and pervasive problem that continues to afflict the healthcare industry, posing a significant risk to patients' health and well-being and saddling the taxpayers with tens of billions of dollars of excessive costs. While economic costs are often referenced and remedies through the use of the False Claims Act, the cost to human health cannot be understated when you have doctors performing unneeded procedures on people and putting patients at risk for profit.   Here are some terrifying examples of Medicare fraud that range from unhygienically reusing certain equipment, to performing unnecessary surgeries. 
Understanding Medicare Fraud
Medicare provides critical coverage to millions of elderly and disabled people. Unfortunately, this program has become a target for unethical healthcare providers looking to unjustly profit from it thinking the government doesn't have enough vision to catch them. Medicare fraud occurs when healthcare professionals submit false or misleading information with the intent of deceiving Medicare and receiving improper payments. This can include billing for services that were never rendered, inflating service costs, or performing unnecessary procedures for financial gain.
Medicare fraud can have serious consequences for patients, especially when healthcare providers prescribe unnecessary medications or perform unnecessary tests. Patients may be given medications they do not require, putting them at risk of side effects and complications. Furthermore, unnecessary tests can cause physical discomfort, emotional distress, and uncalled for invasive procedures have inherent risks and actual patient harm. Medicare fraud not only undermines patient-provider trust but also jeopardizes patients' health and well-being by subjecting them to unnecessary medical procedures.  Thankfully some of these unlawful activities were put to rest by courageous whistleblowers who invoked the False Claims Act to call attention to the government how bad billing was compromising patient health.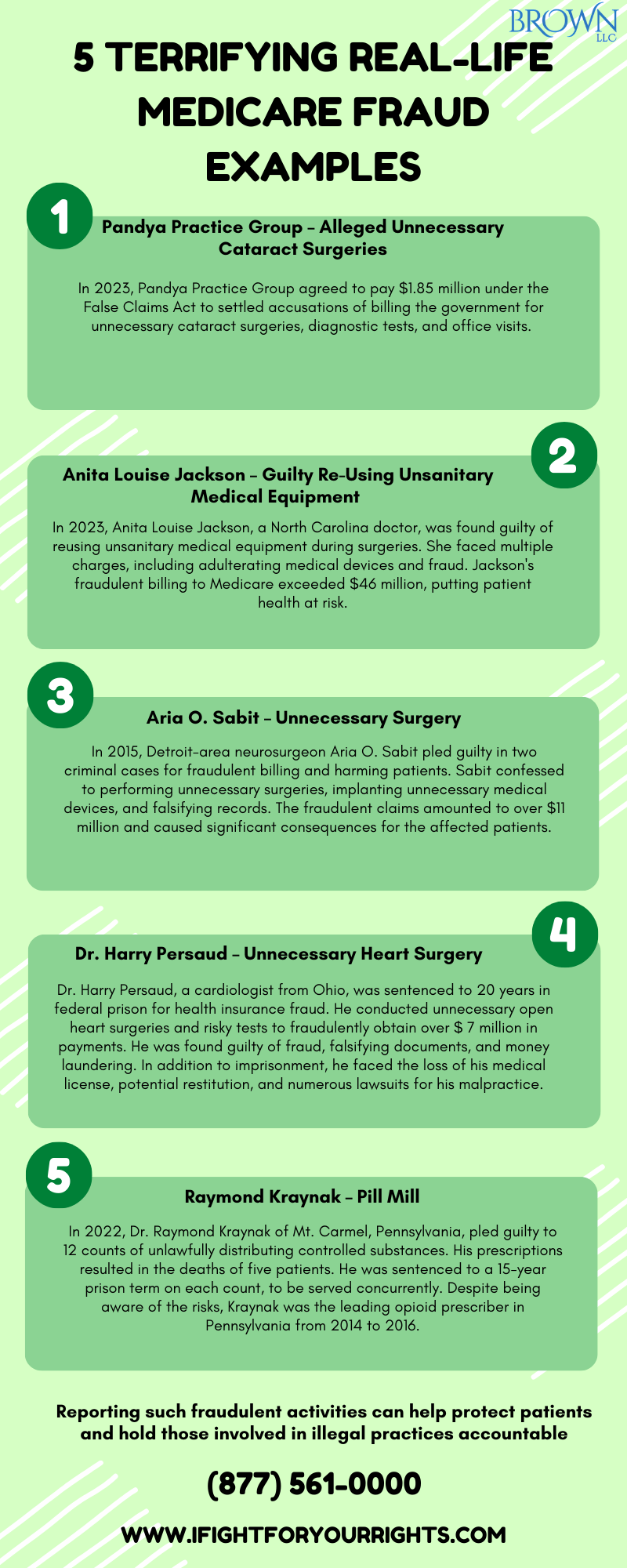 Pandya Practice Group – Alleged Unnecessary Cataract Surgeries
The eyes are the window to the soul, but in this case, the eyes were allegedly the window to unwarranted profits as medical practice group allegedly performed  surgery on people's eyes who didn't need it. This one hits close to home since this author who has a history of eye injuries hates when things go near my eyes and to find out retrospectively that a doctor allegedly did a surgery on it for purely economic reasons, I would personally sue the practice not just for false billing but for malpractice. In 2023, Aarti D. Pandya, M.D. and Pandya Practice Group reached a settlement agreement, agreeing to pay approximately $1.85 million under the False Claims Act. The settlement resolved allegations that they billed the government for unnecessary cataract surgeries, diagnostic tests, and office visits. The investigation involved multiple agencies, including the FBI, U.S. Department of Health and Human Services Office of Inspector General (HHS-OIG), and Defense Criminal Investigative Service (DCIS). The settlement also includes a comprehensive Integrity Agreement and Conditional Exclusion Release to ensure future compliance with healthcare regulations. No liability has been determined, as the claims remain allegations. https://www.justice.gov/usao-ndga/pr/conyers-doctor-pays-1850000-resolve-allegations-she-performed-and-billed-medically
Anita Louise Jackson – Guilty Re-Using Unsanitary Medical Equipment 
We rely on physicians to do the right thing when no one is watching.  Imagine a dirty doctor in every meaning of the word re-using a device again and again on patients purposed for one time use which in turn exposes the patient to risk of infection and transmission of other's diseases all purely for profits.  We just emerged from a pandemic in which sanitary conditions were forefront, and to have the patient's health be marginalized to just make a buck is terrifying, which is precisely what Anita Louise Jackson was found guilty of doing. In 2023, Anita Louise Jackson, a doctor from North Carolina, was found guilty after a three week trial of multiple charges related to re-using unsanitary medical equipment during surgeries, as announced by the Justice Department. Jackson, operating Greater Carolina Ear, Nose, and Throat, was convicted on 20 counts, including adulterating medical devices, fabricating records, mail fraud, and conspiracy. Despite the FDA-approved single-use requirement, she repeatedly used the Entellus XprESS device for balloon sinuplasty surgeries on Medicare patients. Despite performing over 1,400 procedures, Jackson received only 36 new devices during the same period.  That means she re-used single use devices roughly 40 times , passing risks of infection exponentially to each subsequent patient with the re-use, but billing the taxpayers and receiving money for a new device for each surgery. Her fraudulent billing to Medicare exceeded $46 million, resulting in a net gain of over $4.79 million from the sinuplasty surgeries alone. Jackson's actions endangered patient health, and she now faces imprisonment and substantial fines. A federal civil case against Jackson is still pending. https://abc7chicago.com/medicare-fraud-scam-raleigh-nc-justice-department/12744815/
Aria O. Sabit – Unnecessary Surgery
As a whistleblower law firm, we often have people who call in for a free consultation who believe someone has implanted a chip or some other unnecessary device, and most of the time the complainant is unfortunately has some permutation of paranoia, but in the terrifying case of Dr. Sabit, they would have been right. In 2015, a Detroit-area neurosurgeon named Aria O. Sabit pled guilty in two criminal cases involving fraudulent billing and serious harm to patients. Sabit admitted to performing unnecessary surgeries, implanting unnecessary medical devices, and falsifying records to deceive insurance companies. His actions resulted in over $11 million in fraudulent claims and life altering consequences for patients. https://www.fbi.gov/contact-us/field-offices/detroit/news/press-releases/detroit-area-neurosurgeon-admits-causing-serious-bodily-injury-to-patients-in-11-million-health-care-fraud-scheme
Dr. Harry Persaud – Unnecessary Heart Surgery
Some physicians are the heart and soul of society, upholding their Hippocratic oath to always do what's right for the patient, and some just go after soul of the biller, even at the terrifying expense of operating on someone's heart when it's not needed. Imagine enduring complicated life altering surgery of the heart when it wasn't needed in some cases leading to actual and immediate patient harm and risk and in most others shortening their expectancy.   Dr. Harry Persaud, an evil cardiologist based in Ohio, was sentenced to 20 years in federal prison for health insurance fraud. He ordered unnecessary open heart surgeries and conducted risky tests and procedures to fraudulently obtain payments from Medicare and private insurers, accumulating over $7 million in fraudulent earnings. Patients were subjected to unnecessary treatments, including repeated injections of radioactive material and invasive surgeries. Dr. Persaud's actions violated the trust patients placed in him and jeopardized their health. He was found guilty of fraud, falsifying documents, and money laundering. In addition to imprisonment, he faced the loss of his medical license and potential restitution to the defrauded companies and a litany of lawsuits for his outright malpractice. https://www.theguardian.com/us-news/2015/dec/22/doctor-who-ordered-unnecessary-heart-surgery-and-risky-tests-jailed-for-20-years
Raymond Kraynak – Pill Mill
Doctors should help heal and not become drug dealers, but in essence that's what this one physician did which led to multiple deaths of opioid addicts. In 2022, Dr. Raymond Kraynak, 64, of Mt. Carmel, Pennsylvania, pled guilty to 12 counts of unlawful distribution of controlled substances. He admitted that his prescriptions led to the deaths of five patients and was sentenced to a 15-year prison term on each count, to run concurrently. Kraynak was the top prescriber of opioids in Pennsylvania from 2014 to 2016, despite knowing the risks to patients. He awaits sentencing.
As you can see from these examples, putting profits about patients creates horrific consequences.  Ripping off the taxpayers is terrible and can be retroactively remedied through a False Claims Act law firm, but beyond terrible is terrifying, and performing invasive unneeded surgeries, pushing pills to addicts resulting in deterioration and death and reusing unhygienic equipment is the stuff horror movies are made from, and although these 5 examples were remedied to some extent, the patients will never be the same and for every case cited, there may be scores more out there.
Contacting a Whistleblower Law Firm
If you suspect Medicare fraud, you must act quickly by contacting a reputable law firm like Brown, LLC that specializes in Medicare/Medicaid fraud cases. Reporting such fraudulent activities can help protect patients and hold those involved in illegal practices accountable. A knowledgeable law firm with experience handling False Claims Act cases can guide you through the process of reporting the fraud and, if necessary, filing a whistleblower lawsuit.
Under the False Claims Act, a whistleblower is entitled of up to 30% of what the government recovers which could be in millions of dollars. This award, also known as a qui tam reward, is intended to encourage people to come forward with information about illegal activities.