Understanding the Basics of Becoming an Anti-Money Laundering Whistleblower
What is Money Laundering?
Money laundering is the movement of illicit cash or cash equivalents into, out of, or through U.S. businesses or financial institutions. An example is when unlawfully obtained money is routed through multiple banks and businesses to conceal the original source of those funds. This definition includes criminal money laundering, such as transacting money and financial instruments which represent the proceeds of unlawful activity. And importantly, the AMLA now rewards whistleblowers who disclose violations when individuals or entities from sanctioned countries such as Russia are using United States banks to move their funds.  It is estimated that there's billions in monies that originate from Russia, but whose origin is concealed and the government is looking to make an example of an entity that is functioning in that manner.
What is the Anti-Money Laundering Program?
The anti-money laundering program enables whistleblowers to report money-laundering violations and sanctions evasion through a government program that provides whistleblower rewards, job retaliation protection, and confidentiality. Whistleblowers who report money laundering and sanction evasion through an AML lawyer can do so anonymously potentially from start to finish which is a huge mechanism to incentivize whistleblowers in addition to the fact that the whistleblower can obtain up to 30% of what the government recovers – which could be many many millions.  
AML sanctions are also a powerful tool in the fight against financial crime, as they assist financial institutions in putting in place adequate procedures to comply with AML sanctions and regulations.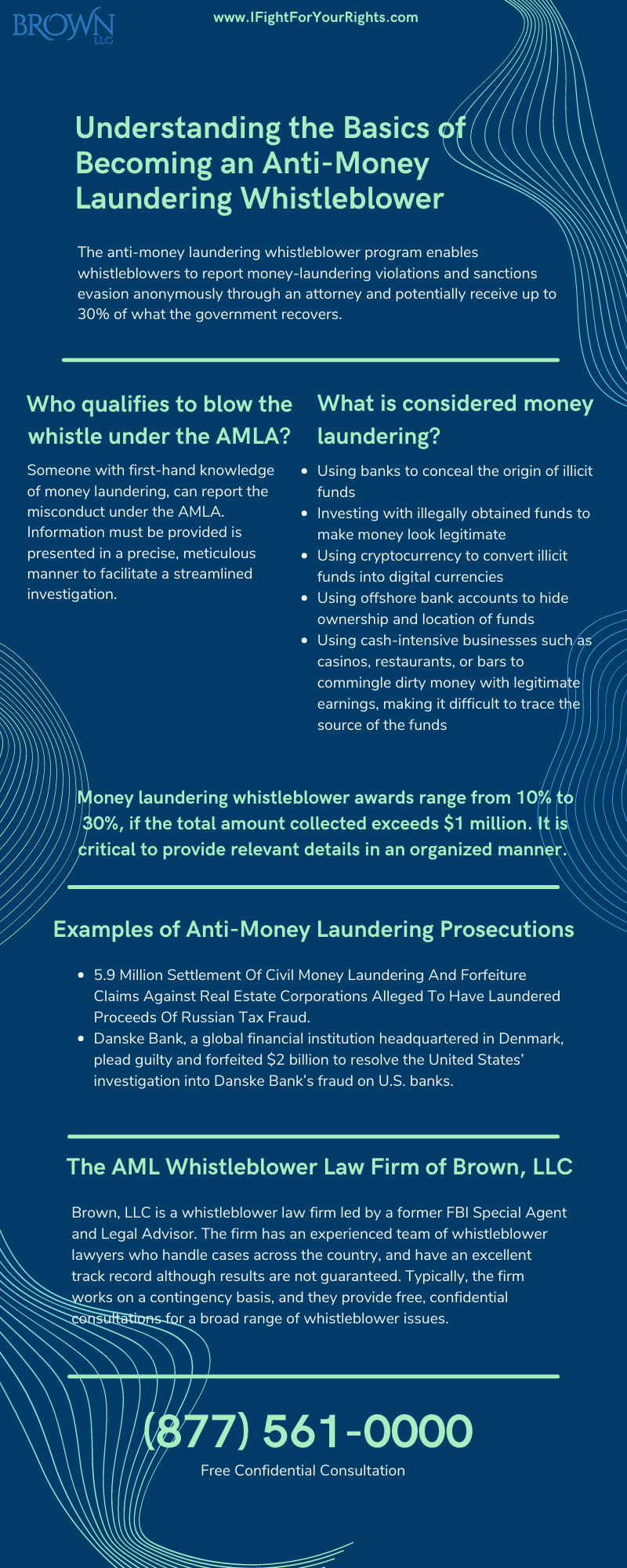 Who qualifies to blow the whistle under the AMLA Whistleblower program?
Anyone can report suspected money laundering activities under the AMLA whistleblower program if they have intimate knowledge of the laundering.  The program is presently understaffed, so it is expected that information that is presented to them will be done in very tight, detailed oriented manner to allow the investigation to proceed in a streamlined manner.  Mere speculation will not succeed.  There is an interplay between the civil enforcement component of money laundering under the AMLA whistleblower program which entitled the whistleblower to a reward if successful versus the criminal implications to the defendant for laundering the money – so an experienced money laundering whistleblower lawyer can walk you through the process and potential interplay.  The use of an AML lawyer with former Department of Justice individuals such as Assistant United States Attorneys or FBI Agents or Legal Advisors may facilitate the deeper understanding of the money laundering statute and consequences especially if they helped prosecute it from the government side.
What kinds of actions qualify as money laundering?
Money laundering under then anti-money laundering program is a broad term that refers to the use of banks and financial institutions to transact money and financial instruments that represent the proceeds of illegal activity, as well as to conduct other types of prohibited and illicit transfers of cash or cash equivalents, and generally involves concealing the nature of the underlying transaction.  Because money laundering is broadly defined, even banking with countries sanctioned by the US government may implicate AML violations. Furthermore, money laundering is common in a wide range of illegal and criminal enterprises, including those involved in drug trafficking, terrorism, arms trafficking, and organized crime.  Nowadays, cryptocurrency money laundering is becoming more common, in which banks transfer the proceeds of cryptocurrency sales whose true origins are concealed. The term money laundering originates from cash types of businesses like laundromats who didn't disclose their revenue to the IRS, but used the banks to deposit their currency and further for illegal cash enterprises who opened up laundromats to conceal the criminal origin of the cash to have a plausible explanation for it.  Washing the money through the laundromat brought an air of legitimacy to it in the criminal's mind to obfuscate for the IRS and the world that the funds were sourced criminally.
Some common money laundering schemes are:
Bank laundering: A person who owns a financial institution (such as a bank, loan company, credit card company, etc.) can easily clean money by transferring the funds from one financial institution to another.
Casino laundering: Because casinos are places where a lot of money is transacted, money laundering schemes frequently use them as a front. The majority of the time, people use casinos to launder money by buying chips, wagering very little money, and then withdrawing the clean money.
Real estate laundering: Purchasing properties with cash and then selling them to generate clean funds in order to use real estate to launder money.
Shell companies: In order to conceal the true ownership and control of money, a fictitious company is created.
Virtual currency: Moving and laundering money across borders using virtual currencies, commonly known as cryptocurrency, like Bitcoin.
Structuring: Dividing large sums of money into smaller sums and depositing them into various bank accounts.
Smurfing: Using multiple people to make modest deposits into a bank account in order to avoid reporting obligations.
Trade business laundering: When criminal funds are disseminated and moved through commercial transactions, such as when falsely billing for goods or services, issuing multiple invoices for a single transaction, or falsely listing the sale of goods or services, dirty money is cleaned.
Cash business laundering:

Cash businesses like laundromats, vending machines, restaurants, lawn services, car washes, and street vendors are often used to launder money.
Anti Money Laundering Solutions
Anti Money Laundering solutions are tools and technologies that are used to prevent and detect illegal financial activities such as money laundering, terrorist financing, and other financial crimes. Here are some examples of common AML solutions:
Transaction Monitoring Systems:

These systems analyze financial transactions using algorithms and rules to detect suspicious activity, such as unusual patterns or transactions above a certain threshold.

Solutions for Customer Due Diligence (CDD) and Know Your Customer (KYC):

These solutions validate customers' identities, assess their risk level, and ensure regulatory compliance.

Customers, transactions, and other entities are screened against government and international sanctions lists, politically exposed persons (PEPs), and other high-risk individuals or entities by these systems.

Tools for Risk Assessment and Management:

These tools help financial institutions assess and manage the risks associated with their customers and transactions.
Anti Money Laundering solutions are essential for financial institutions to prevent financial crimes and comply with regulatory requirements.
Can I get a whistleblower reward under the Anti-Money Laundering Program?
An AMLA whistleblower can receive between 10% and 30% of the sanctions collected by the government in an enforcement action under the AMLA, If the overall recovery exceeds $1 million. The amount of the whistleblower's award will be determined by the value of the whistleblower's information and their cooperation during the investigation. In order to have a successful result you must present the information as methodically as possible to make the investigation seamless, which is why it's critical to use an AML lawyer.
Anti-Money Laundering Whistleblower Improvement Act
A new whistleblower law in 2022 significantly improves the ability to bring whistleblower claims against domestic and international financial services institutions who are non-compliant with anti-money laundering (AML) laws and regulations. This includes 26 different types of institutions, such as banks, foreign bank branches and agencies, broker-dealers, insurance providers, managers of credit card networks, mutual funds, some casinos, and travel agencies. (The full list of covered entities appears at 31 U.S.C. § 5312.)
The Act extends the reach of the law to include reporting financial management rule violations for executive agencies, sanctions against foreign countries, entities, or people classified as adversaries of the United States, and sanctions against international drug traffickers. The Act also stipulates a funding scheme and minimum awards for successful whistleblowers.
Examples of Anti-Money Laundering Prosecutions
Acting Manhattan U.S. Attorney Announces $5.9 Million Settlement Of Civil Money Laundering And Forfeiture Claims Against Real Estate Corporations Alleged To Have Laundered Proceeds Of Russian Tax Fraud. Link: https://www.justice.gov/usao-sdny/pr/acting-manhattan-us-attorney-announces-59-million-settlement-civil-money-laundering-and
Danske Bank A/S (Danske Bank), a global financial institution headquartered in Denmark, pleaded guilty and agreed to forfeit $2 billion to resolve the United States' investigation into Danske Bank's fraud on U.S. banks. Link: https://www.justice.gov/opa/pr/danske-bank-pleads-guilty-fraud-us-banks-multi-billion-dollar-scheme-access-us-financial
The AML Whistleblower Law Firm of Brown, LLC
Brown, LLC is a whistleblower law firm with a dedicated team of AMLA whistleblower lawyers who have litigated a wide variety of whistleblower matters. Former FBI Special Agent and Legal Advisor Jason T. Brown heads the firm, which has a nationwide imprint and has obtained excellent results, although nothing is guaranteed. Most cases are taken on a contingency basis, which means the firm is only paid if it wins and it offers free consultations about a wide range of whistleblower matters.